As we close on the shortest month of the year, we'd like to begin this Production Log by showcasing some of our progress in creating one of the five 3D sets that will be used in our film Gauntlet.  Today we're displaying our early creation of Suriv's grand headquarters: a vast, elegant theater that entertains its guests with upbeat music, room to dance and drinks on the house.  Suriv, played by Johnathon Byrd, is a secondary antagonist that our main character encounters midway through the narrative.  The backdrop of the encounter takes place in his "domain" which reflects the vintage, eclectic feel of the roaring 20's: flappers, suits and fedoras, champagne, life is a party, etc.  We want to recreate a very lavish lifestyle of the "haves", as oppose to the "have-nots" during that era.  We've done research on beautiful theater stages and cinema houses along with specific architectural styles and tapestries.  When we're done with the design, we want the viewer to immediately feel a sense of awe.  A tough task indeed considering we've just started on our Maya training last month.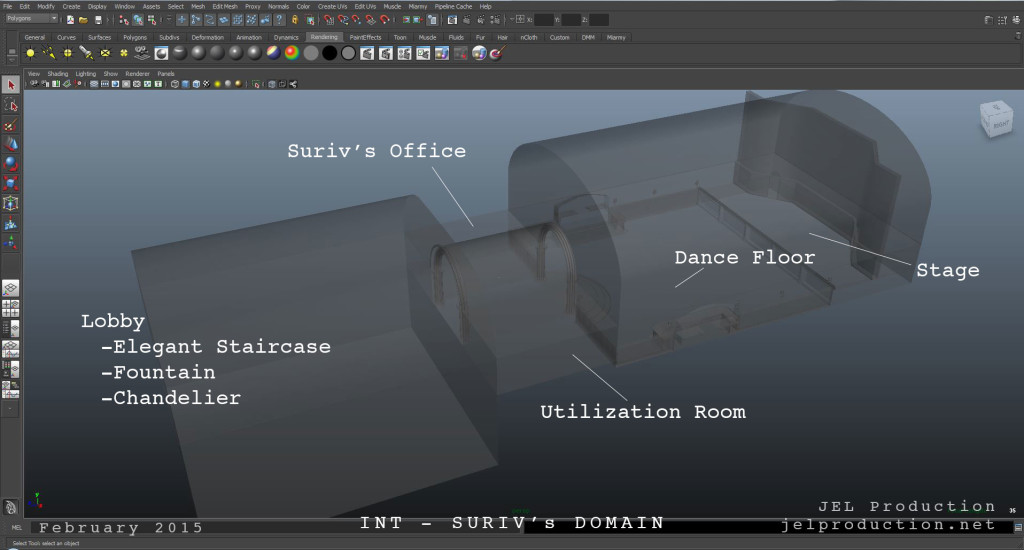 ---
 Tangent: Maya is one of the top 3D modeling software programs where artists create stunning work that have been seen in movies, TV, and video games.  Some examples of work that we know of are Game of Thrones unbelievable opening title sequence and the majority of VFX shots in Alfonso Cuaron's Gravity.  Check out this article from fxguide.com on the breakdown on how they did it, which is an awesome read.
---
Speaking of training, it has been a humbling experience.  We are happy that we began in January as oppose to our original plan of starting in June.  The learning curve is a bit steep, something that we didn't plan on.  Don't get us wrong, we're enjoying each and every step of this process.  The idea that you can create ANYTHING is just addicting.  However with everything else we've done in the past, the details is what we always believe in so each set will take time to complete and ultimately to perfect.  Below are a few rendered images of what we have so far.  Our goal is to have a decent set by the beginning of summer so we can start implementing our green screen footage in the scene.  Can't wait for that moment!
So as you can see we're making progress.  Learning Maya is fun and exhilarating but overall daunting.  There's just so much information to retain from the software that all we can say is "keep it comin'!"  This has taken up all of our time since the new year started so that's all we got.  See you next time!
There are no rules in filmmaking. Only sins. And the cardinal sin is dullness.

– Frank Capra (It Happened One Night, Mr. Smith Goes to Washington, It's a Wonderful Life)