Since we began this process of designing one of the main set locations for the film back on Production Log 19, we've physically seen the progress of this piece through previous stills which is awesome.  Today is no different as in the month of April we did additional modeling and began working on Texturing and Shading our set.  Now we're beginning to see the transition from a boring gray slate to multiple colors, shading, different texturing and "life".  This is a crucial step going forward (honestly all of them are) so that when we begin the Lighting Phase, we can really start to see our set come to life.  One step closer before we can begin implementing our actors performances on green screen into this set!  So excited for that moment to come.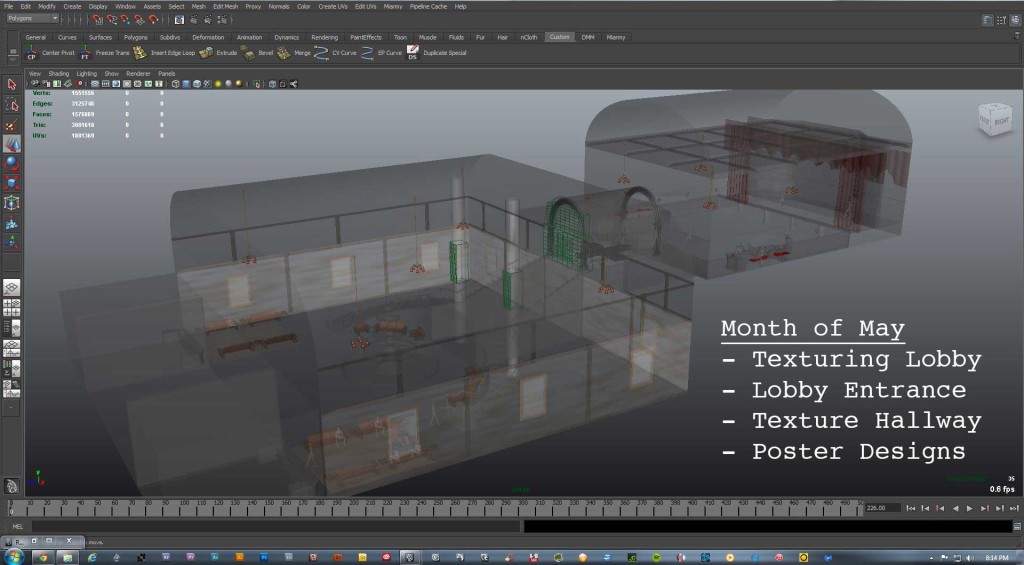 We did meet the majority of our April goals but fell short on a couple.  So this month we're going to focus on modeling the lobby entrance first, followed by possibly reworking the stage curtains.  We believe we can do a better job using Maya's nCloth option.  Next we're going to have fun creating fake 80's video game posters in Photoshop that will be showcased in the main lobby entrance tapestries.  Suriv, one of the main villains, collects video game data to support his claim in the gaming system.  What better way to convey that by using the set to tell that backstory of him, without using exposition through dialogue.  We've used a poster we created for one our characters as an example for you to see.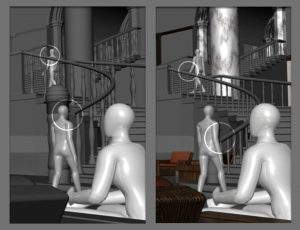 One of the reasons why we fell short on April's goals was we took the time to adjust some of our modeling mistakes.  Being this is our first attempt at this program, we knew we'd run into a few bumps while learning the software.  A great example to show this is the staircase in the lobby entrance.  We didn't use the models in the scene as references until afterwards and noticed the mess up.  All is fixed but great lessons learned in remembering that mathematics, geometry and physics go hand in hand while creating a 3D world.  (Not our best subjects either.)
It's hard to believe that we started this set back in late February of this year.  Time does fly but it's always encouraging to see what you can create in any amount of time.  We already know that our biggest "pinch-me" moment will be compositing the live footage into this world.  It'll make all the hard work worth it!  Until then, enjoy these still shots below.
See you next month.
Movies are like an expensive form of therapy for me.

– Tim Burton (Edward Scissorhands, Nightmare Before Christmas, Alice in Wonderland)